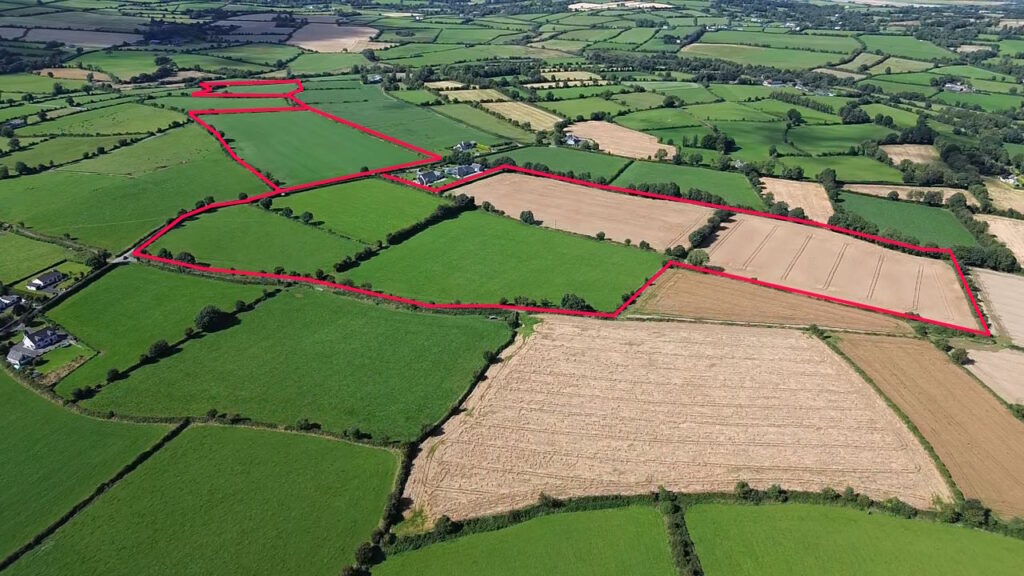 SOLD SEPTEMBER 2023 – Excellent C. 60 Acre Roadside Holding For Sale by Online Auction On Wednesday 6th September At 2pm (In 1 or More Lots)
Today's auction saw a substantial holding come to the market near New Ross. The lands are of excellent quality and suitable for a range of agricultural uses.
The lands have good frontage onto the local road and are divided by the road into two lots.
Lot 1 extends to C. 30.5 acres and is laid out in 5 divisions, it is currently in a mixture of grassland and tillage and has excellent quality, free draining soil, suited to most agricultural enterprises.
Lot 2 extends to C. 29.3 acres, this has good road frontage, is in three divisions, all of which are currently in grass and of excellent quality. Again, the land is suited to most agricultural enterprises.
Auctioneer David Quinn had guided the property between €12,000 and €15,000 and noted significant interest from the general locality in advance of the auction.
To view the full property listing, please click here.
The property was offered for sale in the following Lots:
Lot 1: C. 30.5 Acres
Lot 2: C. 29.3 Acres
Entire: C. 59.8 Acres
Lots 1 and 2 were initially offered to the room and peaked at €1,040,000. However, this was surpassed by a bid of €1,050,000 for the entire and the individual lots were withdrawn. After further bidding for the the entire, the hammer fell at €1,090,000 to a local diary farmer.
According to Mr Quinn, "there was eight bidders in total, three for the entire and five for the individual lots". He added that the price achieved "equated to approx. €18,200 per acre, a very strong result".
To view our upcoming land auctions, please click here.
With the property market continuing to perform well, please contact us if you are considering selling your property, either by way of auction or private treaty.
QUINN PROPERTY – No. 1 Independent Auction House in the Southeast.