Sold March 2019 – Charming C. 15 Acre Residential Roadside Holding With Outbuildings For Sale By Public Auction (In One Or Two Lots) On Tuesday 19th March 2019 At 3pm In The Talk Of The Town, Kiltegan, Co. Wicklow.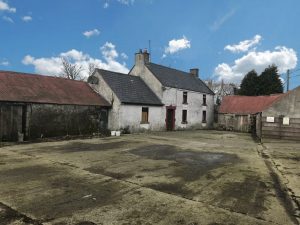 Today's auction of Portrushen Lower drew a crowd of more than 50 people, resulting in a packed auction room. Auctioneer David Quinn described the auction as "an ideal opportunity to purchase small holding or increase a present holding, with the lands lending themselves to any agricultural enterprise".
The Property was offered in the following lots:
Lot 1: Residence & Farmyard On C. 0.83 Acres
Lot 2: C. 14 Acres
Lot 1: The residence and farmyard was guided at €70,000. Bidding commenced at €40,000 and with four separate bidders it moved onto €75,000, at which point it was declared on the market. The hammer fell at €80,000, with a local individual making the highest bid.
Lot 2 comprised c. 14 acres of good quality land with extensive road frontage. It was guided at €140,000. Bidding started at €100,000 and with the help of two strong bidders it moved briskly to €210,000. Following this, Lot 2 was declared on the market and a new bidder entered the fray. After two bids it was knocked down to a local dry stock farmer at €215,000 (€15,400 per acre).
Needless to say, the vendors were delighted with the outcome of the auction.
For further details on this property please click here.
QUINN PROPERTY
Experts in the Local Property Market
Tel: 053 94 80000
E: sales@quinnproperty.ie