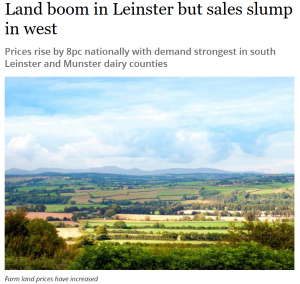 David Quinn gave his insight on the factors driving demand for land in the South-East in this article. The following is an extract from the article, written by Jim O'Brien.
Wexford auctioneer David Quinn said this year saw a continuing switch from beef and cereals to dairying, with some of the top suckler and tillage farmers moving into milk. He said this trend was underpinning activity in the land market, as farmers who wanted to grow their operations have had to go into cows. "These suckler and tillage guys have top-class operations and pushed themselves to the limit but they are no match for the dairy men so they are changing tack," he said.
To view the full article please click here.
QUINN PROPERTY
Experts in the Local Property Market