SOLD AUGUST 2020 – Charming Farmhouse On C. 23 Acres For Sale By Public Auction On Wednesday 26th August, 2020 At 3pm In Carnew Mart.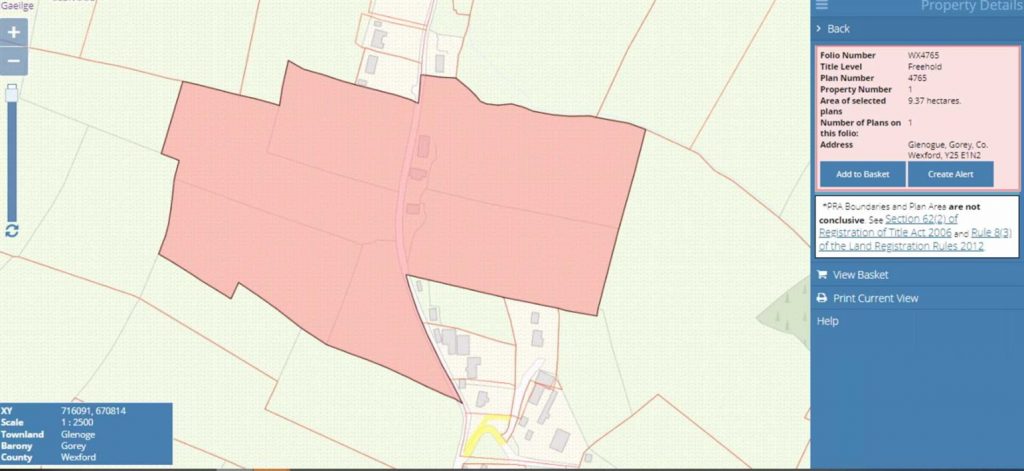 Today's auction was relocated from the Ashdown Park Hotel to Carnew Mart due to revised Covid-19 restrictions. As such, attendance was kept to a minimum. The wearing of face masks among attendees was mandatory and social distancing was in force.
Prior to the auction, Glenogue was guided at between €260,000 and €300,000.
The property was offered in the following lots;
Lot 1: Residence on C. 10 Acres
Lot 2: C. 13 Acres
Lot 3: The entire.
With a solitary bid of €330,000 placed on Lot 3 (the entire) and no further offers, it was clear that there would be a greater demand for the property to be split into lots 1 and 2. Indeed Lot 1 attracted four bidders, with an initial offer of €150,000 and a final bid of €250,000. There was also solid interest in Lot 2 with 3 active bidders, bidding peaked at €85,000 following an opening offer of €70,000 . As such, the total price equated to €335,000 a good return for the vendor.
Auctioneer David Quinn says the result "proves that the land market in North Wexford is continuing to perform strongly".
To view the full property listing included drone footage please click here.
Our next auction sees an outstanding C. 87 acre residential holding with an extensive range of outbuildings come to the market on Wednesday 2nd September at 3pm on the lands. To view more details on this property please click here.
QUINN PROPERTY – No.1 Independent Auction House in the South-East
Tel: 053 94 80000
E: sales@quinnproperty.ie