Last week's auction of C.57 acres near Ballynabola, New Ross, Co. Wexford received great coverage in this week's edition of the Irish Farmers Journal.
It reported the "dramatic proceedings" that unfolded as two locals dug their heels in and went toe to toe with each other. This resulted in the price being driven as far as €910,000 before the property was declared on the market.
The drama was far from over however, as a third party entered the race at this point "driving bidding past the €1m mark". In the end the property was secured by the original bidder.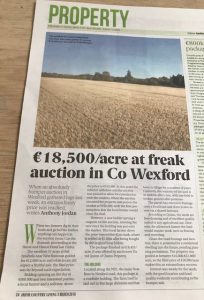 More details on the property can be found by clicking here.
QUINN PROPERTY
No.1 Independent Auction House in the South-East