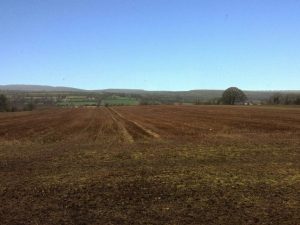 SOLD FEBRUARY 2018 – Excellent C. 33 Acre Roadside Holding For Sale By Public Auction On Wednesday 28th February At 3pm In Our Carnew Office (In Lots).
The interest in this farmland at Brideswell was reflected through a large turnout at today's auction despite some difficult weather. Overall there was an attendance in excess of fifty people.
Lot 1 C.16 Acres:
Bidding for this lot began at €150,000 and swiftly rose to €285,000 at which point it was declared 'on the market'. Following this two further bids brought it to €300,000 where the hammer fell. This represented a remarkable price of €18,750 per acre.
Lot 2 C.17.4 Acres:
Similar to the previous lot, bidding commenced at €150,000. With three bidders competing the land was put 'on the market' at €245,000. It seemed as if this lot was going to be sold for €255,000 only for another offer to come in as the hammer was about to fall. Soon afterwards the land was secured for €265,000 (€15,229 per acre).
Speaking after another successful auction, David Quinn remarked that "the result exceeded expectations" and was fuelled by "high levels of demand from locals". It was the second QUINN PROPERTY auction in the space of a week where farmland sold for more than €18,500 per acre.
Our next auction takes place on the 21st of March where we will bring a superb C.86 acre farm to the market.
QUINN PROPERTY
No.1 Independent Auction House in the South-East